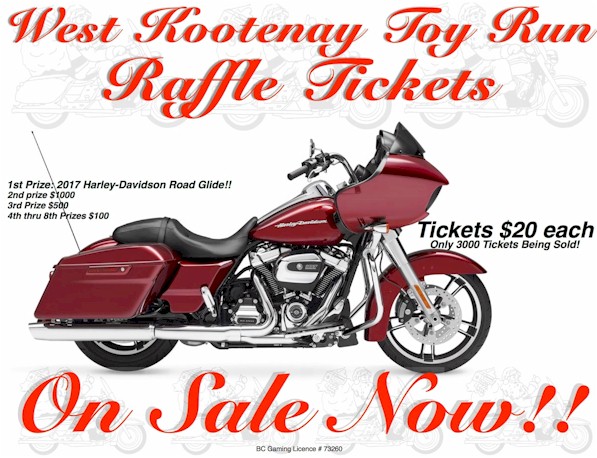 This annual event takes place on the first Sunday after Labor day in September. The Toy Run began in 1988 and more join the fun each year.
Great news! the West Kootenay Toy Run will roll again for 2016! Sadly it was uncertain this year. We need positions filled on the executive as well as area reps. There have been only 4 volunteers doing the job of 10 people in recent years This is an awesome cause and unfortunately may not happen again without more help.
Area reps are needed for the following places: Nelson, Trail, Kaslo, Nakusp, Grandforks. Other positions: bursary management, public relations as well as sitting on the executive. This does not take much time out of your life. Many hands make light work all is appreciated. With Great thanks to the existing Comittee the Toy Run will roll againg for 2016! But with the lack of core support volenteers the West Kootenay Toy Run Is in serious Danger of not seeing it's 30th anniversary.
Come and meet us out at our Monthly meetings. Date: The First Tuesday Of every month Time : 6:30 Place: Varies Phone number for more info: 250-365-2901
Thanks to  all the volunteers that came forward to help us with the continued success of our Organization and events. And we are sure the many underprivileged children and families that receive help from our donations are thankful as well!
For more info you can post questions here or email us at toy.run@shaw.ca